Tron article in Cinefex!
In Frognation's ongoing relationship with Movie special effects magazine Cinefex, earlier this year Asako Kai and Kengo Watanabe translated a feature article on Tron: Legacy for issue 20 of the Japanese publication.
The long-awaited sequel to the 1982 original, Tron: Legacy wowed audiences in cinemas last December with the latest cutting edge visual effects and a powerful score by the electronic music legends Daft Punk. The article, originally written by Jody Duncan, delves into how the film-makers convinced Disney to green-light the project through the amazing possibilities of state-of-the-art CG, as well as the initial creation process of this most-aptly titled film.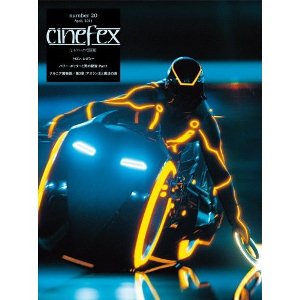 投稿者 fn_uk : March 30, 2011 04:03 AM